Taking the Waterfall Industry to a new level
With our Naturalistic Pools, Ponds and Waterfalls, adding a waterfall, pond or a water feature to a swimming pool not only increases the value of your property, but it increases your level of enjoyment and relaxation to an infinite level. Take a moment and Enjoy some of our creations in the Project Gallery, or read about them below.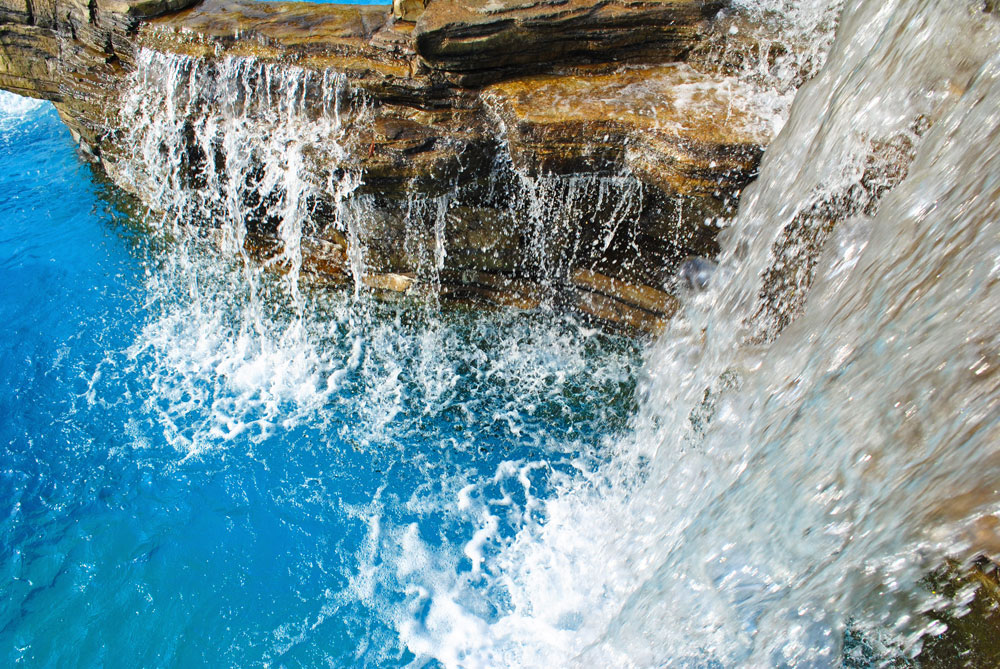 Waterfalls just may be one of the most relaxing sounds in nature... No matter how large or how small a Waterfall is, all that you have to do is have a seat on a lounge chair within an ears shot of a waterfall and within seconds you start to melt into your chair. You begin to forget all of the worries on your mind. Your imagination takes you away from it all and your own backyard becomes your escape.
Waterfall Construction Techniques
World Class Pools constructs Custom Waterfalls using two integral techniques.
The first technique would be with the use of natural Boulders that are indigenous to your area. The boulders are hauled in on trucks, most rocks will fit into a tri-axle truck. Some of the larger Boulders can be hauled with the use of heavy equipment trailers. On occasion our boulders have been hauled in one at a time and require permits to haul. Whatever size boulders the project requires we have the means of accommodating.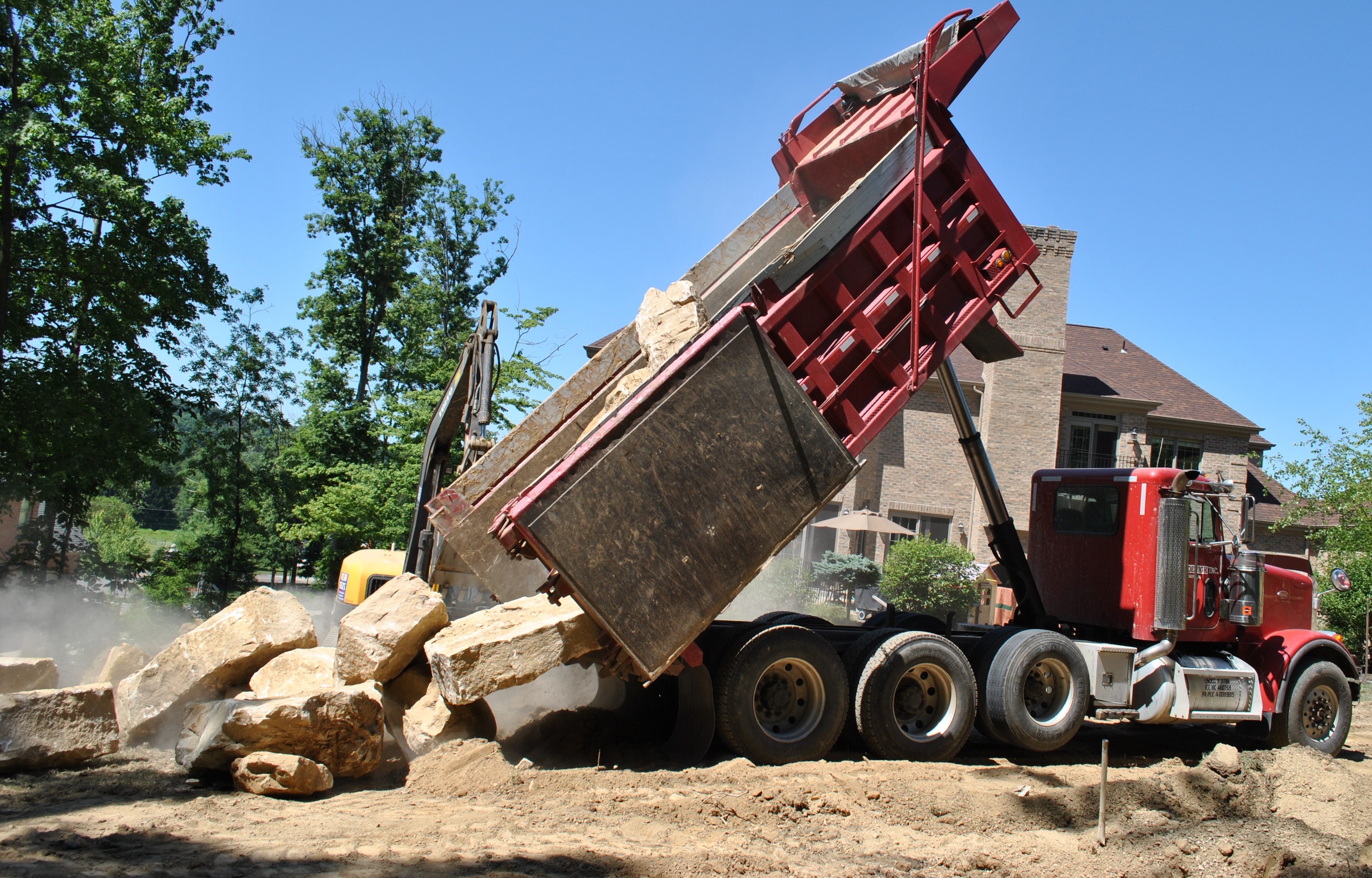 Once the boulders arrive on the site they are placed in a staging area and assorted. The rocks are then carefully stacked to create natural looking out croppings rather than perfectly stacked layered walls that resemble brick. Our natural boulder walls are not only esthetically pleasing from a natural aspect but they are also structurally sound as well.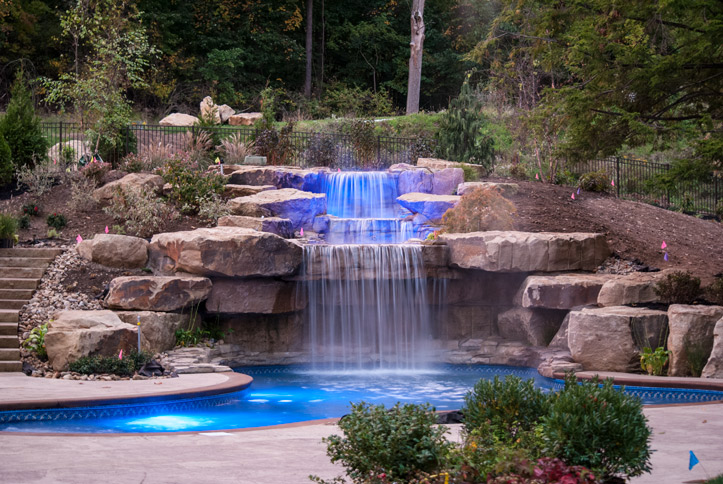 A second technique for construction is with the use of structural hand carved concrete boulders.
This method is often used in conjunction with the natural boulders to create water tight vessels to move the water throughout the water feature. The Carved concrete boulders are built in the same manner as our concrete pools. We excavate the site and install concrete footings and plumbing.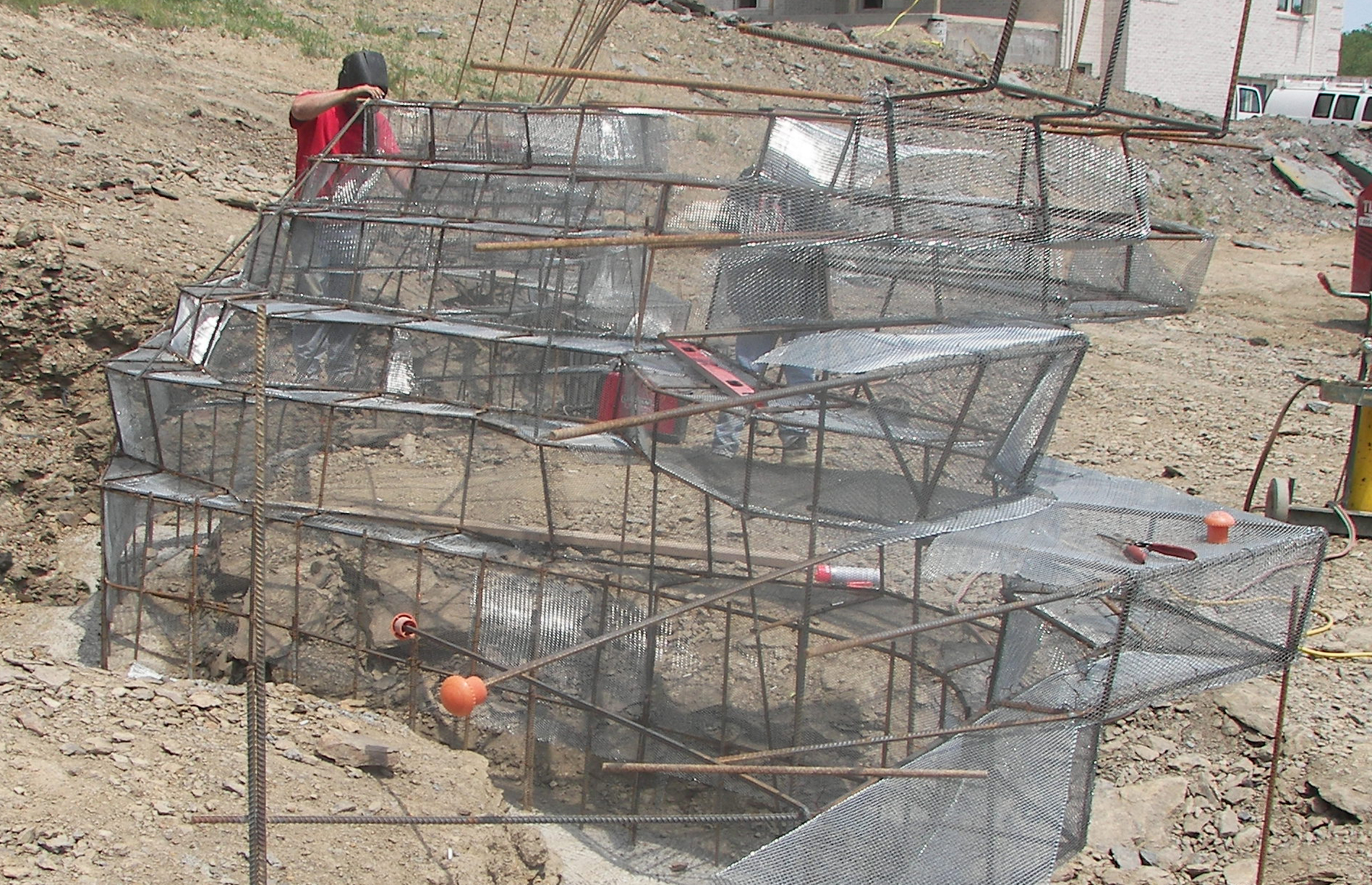 The rock

shapes are then constructed using steel re-enforcement cages. Once the rock shapes are in place, we apply the concrete pneumatically or by hand. The boulders are then hand shaped and carved while the concrete is still wet. Once the boulders have cured, they are hand stained to give the appearance of the natur

al stone.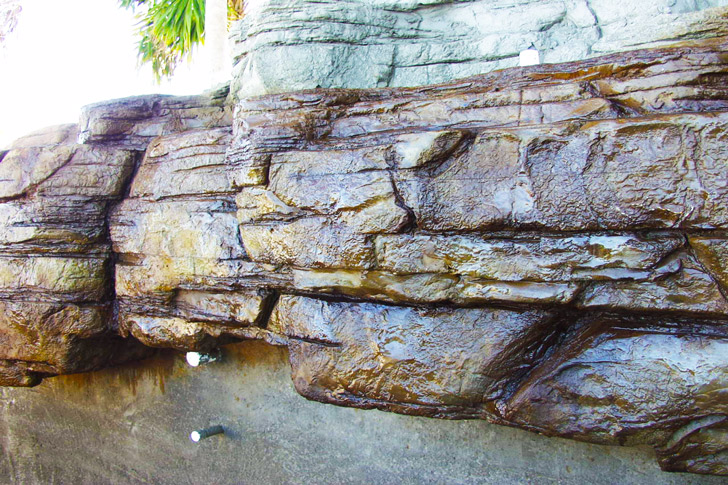 The waterfalls can be constructed to imitate a babbling brook or you may want a sheer decent or even a canyon wash effect. Whatever look or preference that you may have, search the internet for any type of natural rock, waterfall or tree that you catches your eye. We can design and build to suit your needs, there is nothing that we cannot do with concre

te.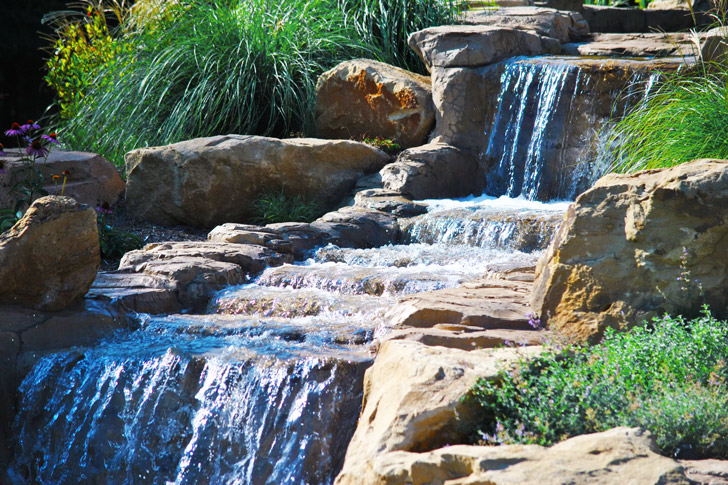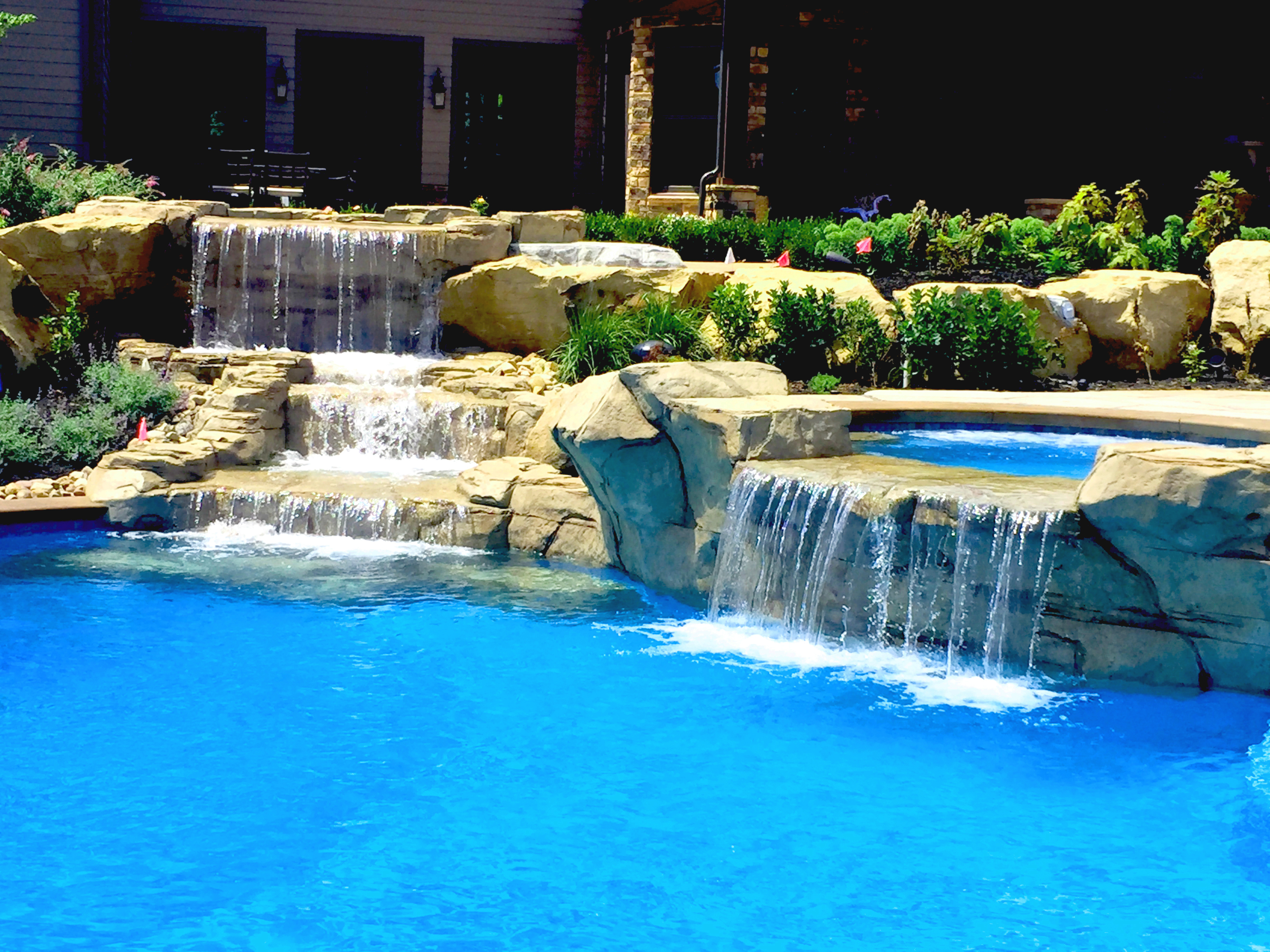 Take an average every day pool and make it an inviting, relaxing backyard retreat. Pool waterfalls act as a magnet for kids to play in and about the cool frothing water. They may be added to any pool whether it is concrete, fiberglass, liner pools or even an existing pool. The Pool above has a Meandering Faux Rock Waterfall with an Overflow Hot Tub Waterfall as well. The Natural Meandering Waterfalls not only look and blend naturally but they are full of small ponding areas that are loved by both kids and adults! " One of our customers from Butler told me that she occasionally will come home and she cant find her husband. She now knows to look in the waterfall ponds where she often finds her husband sound asleep in the shallow water and the sound of the falling water"


Sheer Rock Cliffs

Another Option for a Pool Waterfall would be our Sheer Rock Cliffs. Our project history is full of sheer rock cliffs that are riddled with lush landscape pockets and any amount of flowing water that you would like. Our rock cliffs are constructed from either Natural Boulders or from our Hand Carved Faux Rock. Water flow rates vary from 100 gallons per minute to 5000 gallons per minute. The cliffs can be constructed on our ponds or pools. The Faux Rock Carving can stop at the waters edge or they can continue on to the bottom of the pool floor.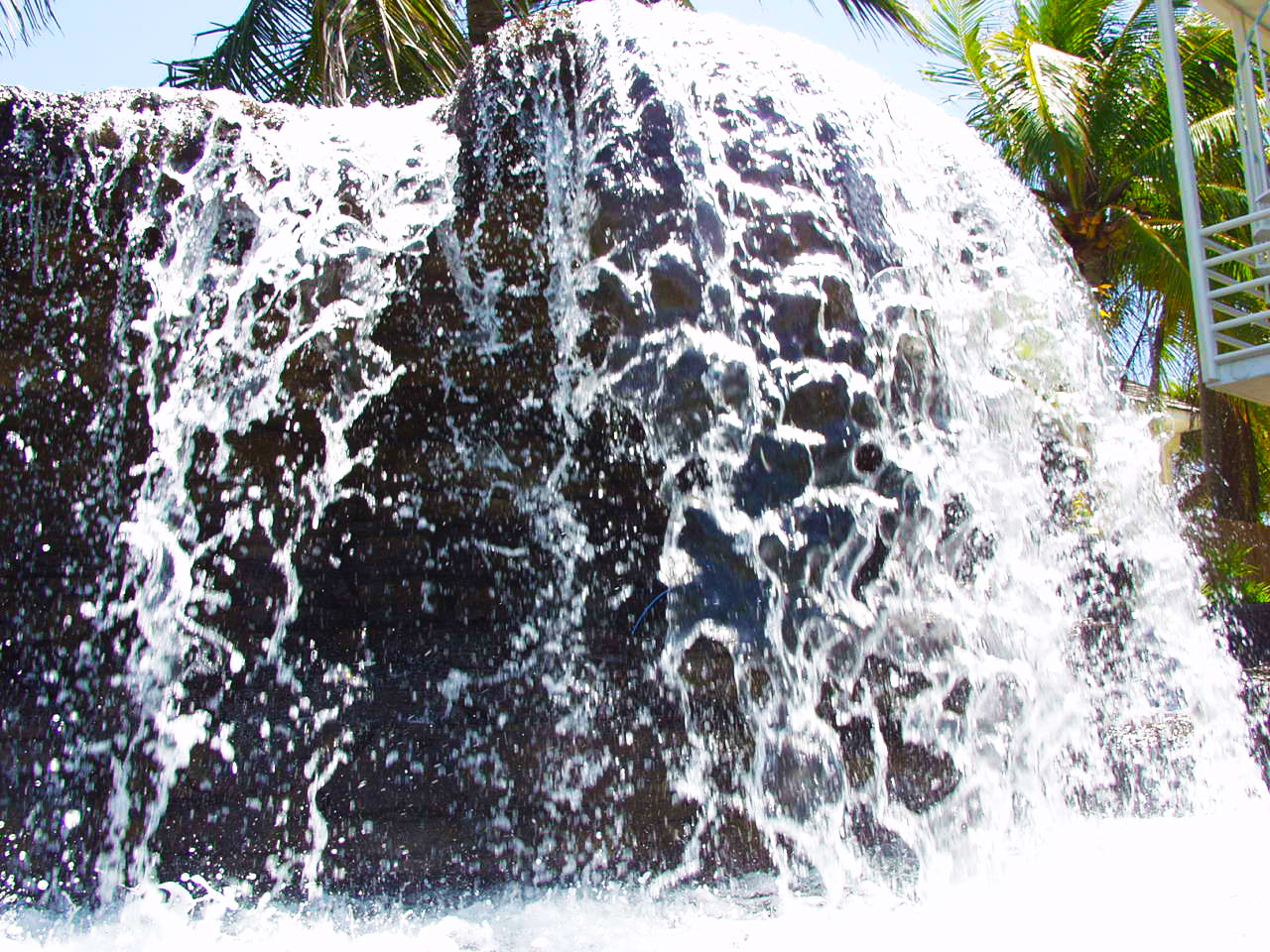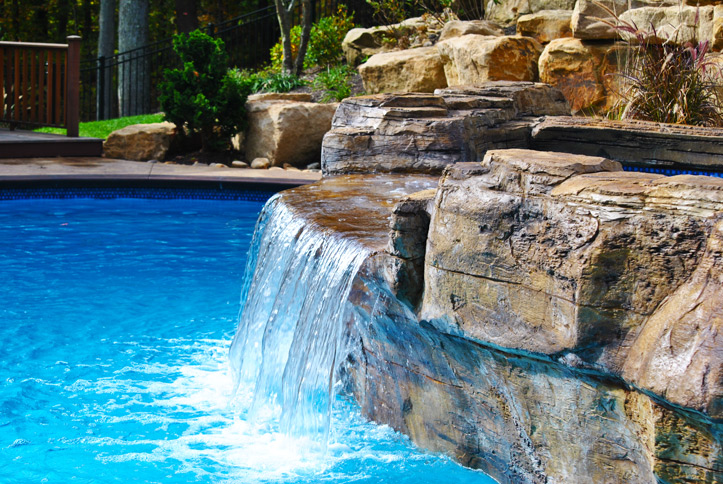 Hot Tub Waterfalls
or Spill Overs have been a popular attraction for adding moving water to pools for years. We have taken this concept a bit further with our Faux Rock Carving and Hot Tub Features. Our Overflows can flow out of the Hot Tub and Into the pool, or it can flow into the hot tub with heated water as the picture below shows.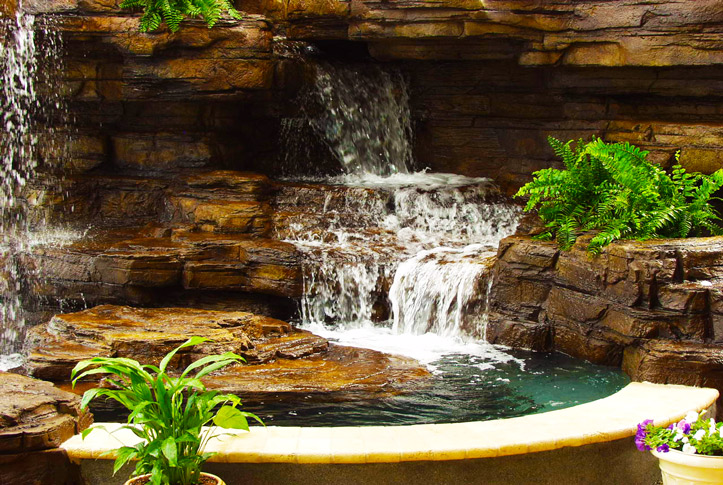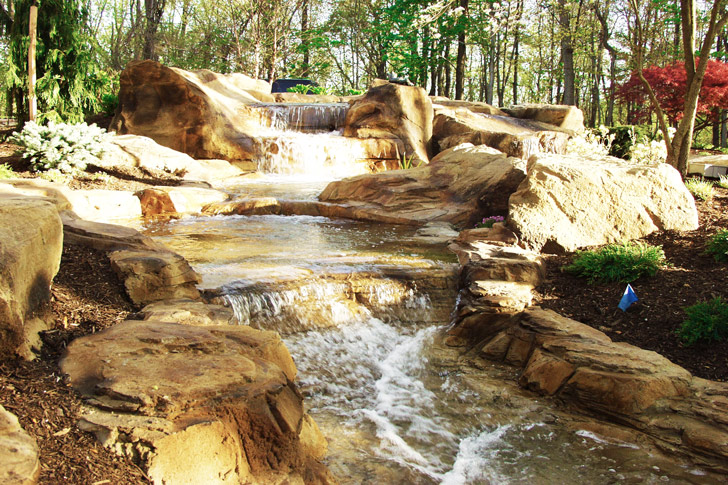 A great way to add excitement to your backyard garden. They can be Built on one of our ponds or on your existing pond. The waterfalls naturally oxygenate the water so that you may add Fish or specialty water plants to your Creation to help maintain and enhance the beauty.

Naturalistic Streams, Waterfalls, Concrete Pond, Gunite Ponds or Fiberglass Ponds

We can create a self supporting habitat, complete with bogs, biological filters and UV lighting. Essentially creating a crystal clear outdoor aquarium.