The Beauty of Falling Water

World Class Pools will bring you an Adventure of the Imagination. Not only do we offer our Natural Hand Carved Waterfalls. We offer an array of Formal Waterfalls, Fountains, Laminars, Bubblers & Other LED Lighted Water Features.

THE BEAUTY AND INTRIGUE OF FALLING WATER
Perhaps no other feature contributes more to the beauty and tranquility of your poolscape than the sight and sound of falling water. Water effects can help transform your pool into a romantic oasis, a playful family water park, or a breathtaking focal point. No wonder they are one of the most popular accessories in today's most elegant backyard retreats. The many options available allow you to integrate these mesmerizing water effects in either dramatic or subtle ways that transform any pool environment from great to spectacular.
FEATURES
Choose from sheet, curtain and rainfall or arc sheet and rainfall effects
Individual water effects are available in widths from 8 inches to 8 feet
Available in six finishes brass, bronze, copper, gray, pewter, or white
Waterfalls can be straight, curved, or customized
Vary flow to any water effect with an energy-efficient IntelliFlo® VF, IntelliFlo® or IntelliPro® variable speed pumps to alter the height and distance of the water effect.
Different lip lengths add to the design freedom available to you.
Click Here For More Fountain Features
MAKE YOUR POOL COME ALIVE WITH COLOR!
The ColorVision LED Bubbler is a combination of the ColorVision Niche and the Pentair GloBrite® LED lighting, which creates vivid and fountain-like water movement. Custom program and control light shows for the ColorVision LED Bubbler with ScreenLogic or IntelliTouch and EasyTouch Control Systems.
Available for gunite, vinyl and fiberglass pools, the ColorVision Bubbler with GloBrite LED Light is the perfect way to showcase and enhance your pool's features as well as poolscape elements like ponds and fountains.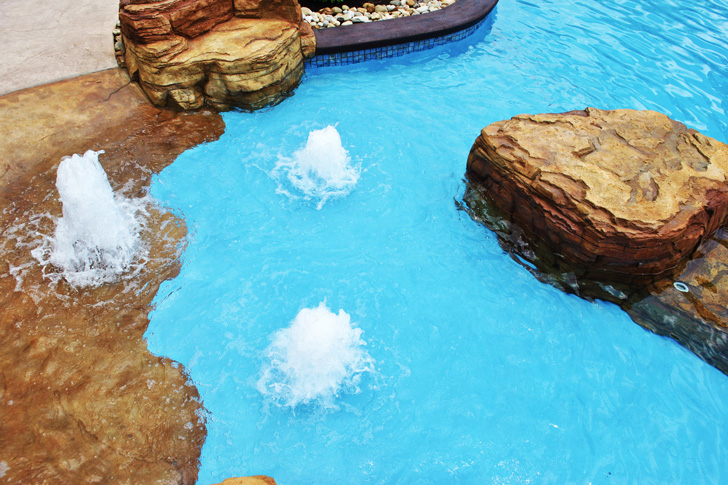 FEATURES
Energy efficient color LED lights with vibrant colors
Provides five (5) fixed colors, seven (7) dazzling light shows
Plume height up to 24"
Designed for use in 2" - 10" of water depth
Low voltage operation of 12 VAC/ 15W
Low flow requirements allow for multiple units per pool
Niche provides for flush mounting
GloBrite LED Light cord length available in 30', 50', 100', or 150'
Click Here For More Fountain Features

MagicStream® Laminars create totally clear, uniform arcs of moving water that originate from either your pool deck or surrounding landscape. At night, these translucent streams are brilliantly colored with an LED light source. The result is a water effect that adds an elegant bit of entertainment to your poolscape.
FEATURES
Laminar water streams can reach up to 7 feet high and project outward up to 8 feet into your pool, spa, or other water feature.
Choose energy efficient LED lighting for a nearly endless array of color choices. Nighttime lighting effects include the ability to hold on a steady color or scroll through a range of available colors.
Installation is made flush to your deck or other surface; no unsightly or unsafe edges, just the magic of water erupting from a hidden source.
Water streams are easily adjusted in two ways - vertically from 62 degrees to 75 degrees to create different heights and arc shapes. Left and right direction can be adjusted up to 60 degrees total.
Laminar deck lids are available in tan, black, and gray to match or complement pool deck or other installation surface.
LED Laminars include 100' of electrical cable; simply connect to a 120/12VAC-100 Watt pool lighting transformer to provide power.
The technical principal behind MagicStream Laminars is to remove all turbulence and air bubbles from the water before projecting it through a finely-machined nozzle. The laminar water flow is very non-turbulent, so it keeps its surface tension and flows through the air in a smooth, clean, unbroken stream, instead of spraying apart into droplets.
Click Here For More Fountain Features