Our Team of In House Professionals
Our Team of in house Professionals share an unparalleled commitment to our customers' satisfaction. It is this commitment that motivates our team to deliver exceptional service, create designs that reflect each homeowner's unique aesthetic and requirements, and provide each customer with our expert workmanship before, during and after every installation. Our Creations are installed by the Employees of World Class Pools. We do not rely on subcontractors to build your Dreams. We take the the installations Personally and we Personally Install each and every one of our projects. Our Craftsman are hands on from the Design and Layout to the last stroke of the Artists brush.
Our Team Of Skilled Craftsman Include:
Stone Masons & Concrete Masons

Finish Plumbers & Carpenters

Equipment Operators

Tile Setters & Plasterers

Faux Rock Sculptors
Our Design & Dream Team
Once you have shared all of your desires and your dreams, Our Team will work together with you and the landscape architects to make your dreams a reality. We will assist with the Design and then we will Build for you an Aquatic Environment that fits your property and lifestyle as well as your budget. The Design Teams will work with you to make sure that your final product is exactly as you had envisioned it to be!

A Few Things That You Will Need to Get Things Started: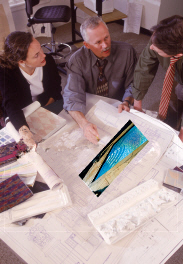 Plot Plan / Property Plat That Shows Your House on it Within The Property Lines

We ask that you Collect some photos from our site of Styles that you like

Compile a List of all the things that you would like to add to your Outdoor Environment
Think Of How You Will Be Using The Environment So that We Can Design it to fit your needs
Click Here to View Some Of Our Designs
Team Work, Pride and Professionalism
No matter what the size of the project, every aquatic environment is a custom job. Our skilled Designers and Technicians work hand and hand with each customer creating a one of a kind finished product. Whether a conventional pool for two or a complex Habitat for live Zoo Animals, Our Team has the training and the creativity to confidently Design and Build Your Dreams.