Custom Inground Liner Pools

World Class Pools of Pittsburgh and Sentry Pool will work together with you and your family to create for you a liner pool that is one of a kind. For years inground liner pools have been labeled with a stigma of being nothing more than a glorified above ground pool. We are pleased to tell you that our pools have broke out of that stigma and have joined our concrete pools in the race for strength, versatility and longevity. Our liner pools also have the World Class Pool one of a kind unique design that will never be mistaken for the neighbors cookie cutter design.

Feeling Creative? Looking for a pool that is affordable but does not look like every other liner pool on the block? We will give you a can of spray paint, go into your back yard and paint any size and shape pool that you and your family desire. Want to add a waterfall to your liner pool? How about a bar with stools in the pool? The possibilities are unlimited with World Class Pools.

Our designers and Sentry Pool will work together to build a pool to fit your budget and property and leave you with one of our trademark breath taking back yard retreats.
Pool Walls and Bracing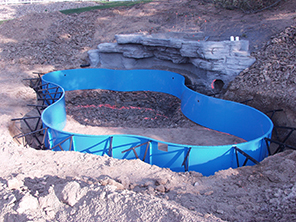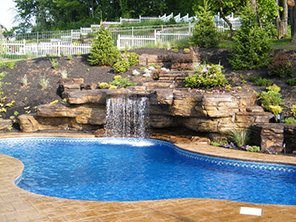 Part of the beauty in vinyl lined swimming pools lies in their strength and versatility.

The two basic components of our swimming pools are the vinyl liner and the all important super structure that gives it strength and form.
SUPERIOR
Designs
​Engineering
Strength
Versatility
Stability
Satisfaction
​​The three types of wall panels and the Hourglass X-bracing of Sentry in ground pools can handle the dual pressure of water within the pool and the earth outside, plus stand up to the extremes of the weather and ground environment. All three walls have:
Durable P. V. C. or Concrete Coping with fiber optic compatibility
Non-flex Panel for Rigid Strength
Galvanized Steel and Stainless Steel
A Concrete Collar That Seals Out Back Fill Dirt
Heavy Duty Powder Coated Steel
Hour Glass Brace that also supports the deck
Back Bracing every 18"
Sentry Hourglass Brace
Maximum Support with Timely Construction, The Sentry Hourglass Brace contains the geometric classic "X" which is more stable than the "A" shaped braces that are used in many other pools. The "X" brace design is used in construction around the world for its stability. It can be seen in the Golden Gate Bridge, Eiffel Tower and the Sears Tower. The Sentry Hourglass Brace will give you the best support for your pool. The brace offers even more in convenience with its strength and support and is now available in adjustable or non-adjustable models.

Features of the Hourglass Brace Include:
Thermo Guard Coated Brace gives great protection from corrosion.
Eliminates the need for back fill dirt to settle in order to fill your pool.
Provides stability for your deck.
Eliminates structural damage from unsettled back fill dirt.
Limitless Options
Word Class Pools has limitless options for you and your family to choose from to help make your pool unique and to fit each of your individual needs and desires.
Wet or Dry Bars
Bar Stools
Fiber Optic Colored Lighting
Waterfalls
Fountains
Benches and Steps, any size shape
Swim Jets
Jetted Benches
Beach Entry
Vanishing Edge
Custom Built Waterslides